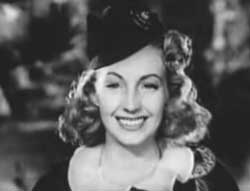 The other night I found myself singing "Loch Lomond," which I of course had in my head from this clip that I hadn't watched in ages. So I decided for my new blog that I simply HAD to revisit this clip, and the glorious Martha Tilton in the soundie
"Loch Lomond" (1941)
.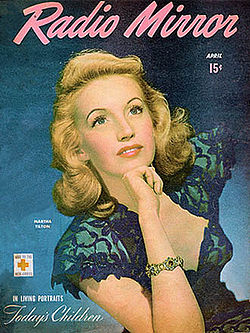 I guess I never realized how BEAUTIFUL Martha Tilton was! She is absolutely adorable and stunning at the same time in this great soundie from 1941, which also features
Ben Pollack's Orchestra
. Her hair is perfectly rolled in 1940's curls, and she walks on stage wearing the cutest chorus girl outfit with a short plaid skirt and platforms. And her huge eyes just dazzle as she sings happily towards the camera.
A bit about Martha Tilton, from
IMDB
:
Martha Tilton (November 14, 1915, Corpus Christi, Texas -December 8, 2006, Brentwood, California) was an American popular singer, best-known for her 1939 recording of "And the Angels Sing" with Benny Goodman. She was sometimes introduced as The Liltin' Miss Tilton.

Tilton and her family lived in Texas and Kansas, relocating to Los Angeles when she was seven years old. While attending Fairfax High School in Los Angeles, she was singing on a small radio station when she was heard by an agent who signed her and began booking her with larger stations. She then dropped out of school in the 11th grade to join Hal Grayson's band.

After singing with the quartet, Three Hits and a Miss, she joined the Myer Alexander chorus on Benny Goodman's radio show, Camel Caravan. Goodman hired Tilton as a vocalist with his band in August 1937. She was with Goodman in January 1938, when the band performed the first jazz performance at Carnegie Hall. She continued to appear as Goodman's star vocalist through the end of 1939.
At around 1:20, in enter the chorus girls! Six ladies enter onstage in short plaid skirts and fabulous hats with feathers. For only have six ladies total on stage in this scene, the formation changes and dancing seem superb. Although I can't really tell if that is a reflection upon the dancers themselves, or the fact that (like what often happened back in the day with chorus girl casting) all of the girls look like a clone of each other - same height, same long ass legs, same hair color, same hair length (could be wigs, granted).
What comes out of this routine though, is a great mixture of classic scottish style folk dancing, with a little jazz mixed in.
So now for your viewing pleasure, I present
"Loch Lomond" (1941)
.